News about books, book clubs,
and recent
additions to our collections.
Looking for book recommendations?
Ask yourself the following questions….
What am I looking for from reading? Escape? Intrigue? Information?
Do I want old or new? Classic or Best Sellers?
How much time do I want to read? Dive in for a long winter's night or something you can finish in an afternoon?
We add books almost every day to our collections. Brand new books will be marked with a "new" sticker and will be displayed on special shelves throughout the library.
Generally speaking the publishing world releases new books on Tuesdays of each week. Depending on shipping and printing numbers, we tend to have books fairly close to the release date. The director orders books periodically throughout the month and shipments can arrive at any time. Oftentimes, the library is at the will of the delivery service as to when a book will actually arrive at the library. You can get on a waitlist for a book by looking for it in our catalog and putting it on hold using your library card.
We are also a part of the Eastern Panhandle Library Consortium. This participation allows us to borrow books and materials from other libraries in Berkeley and Jefferson Counties. These items are delivered by courier twice weekly. Once a requested item arrives here our staff will contact you and arrange for pickup.
Interlibrary Loan allow us to borrow items from almost any institution within the United States.
If you need or want a book, we can almost certainly get it for you!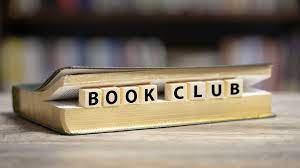 The second Wednesday of every month our Director, Sarah Drennan, hosts a book club here at the library. Meetings are generally in the afternoon and center on books that have been chosen by the group the previous month. To join, contact Sarah at sarah.drennan@wvlc.lib.wv.us or call the library at 304-258-3350.
If you are looking to follow reading list selections, check out the links below that will connect you with some popular book clubs.
Read With Jenna
http://www.today.com/shop/read-with-jenna
Reese Witherspoon's Book Club
What's New and Popular
Looking for the newest additions to our library? Check out the first page of the Catalogue. Covers of the newest additions will appear and you can investigate new titles by clicking on the book. Once you click on the image it will allow you to read a summary of the book, add it to your reading list, or put it on hold. Check which library has the item by clicking on "All Items" on the sidebar.
Reach our catalogue by clicking the link below.
https://mbcpl.tlcdelivers.com:8480/?config=default#section=home